WHAT WE DO
Wheel of Todd Inc. is an IRC Section 501 (c) (3) nonprofit organization that donates handicap tickets for Green Bay Packers home games to three (3) disabled children each year. Each child chosen to go to a game will receive one (1) wheelchair ticket, one (1) companion ticket, a hotel room for two (2) nights, and $400 USD for food, fuel, parking, souvenirs, or anything else they may want or need. In addition, family and friends of the children chosen to attend the game are invited to tailgate with Craig and Julie Bell, the founders of Wheel of Todd Inc., in the Lambeau Field parking lot on the day of the game. In return, the Bell family only asks that a photo is taken of each child in the stadium or tailgating with a 'THANK YOU TODD' sign.
OUR STORY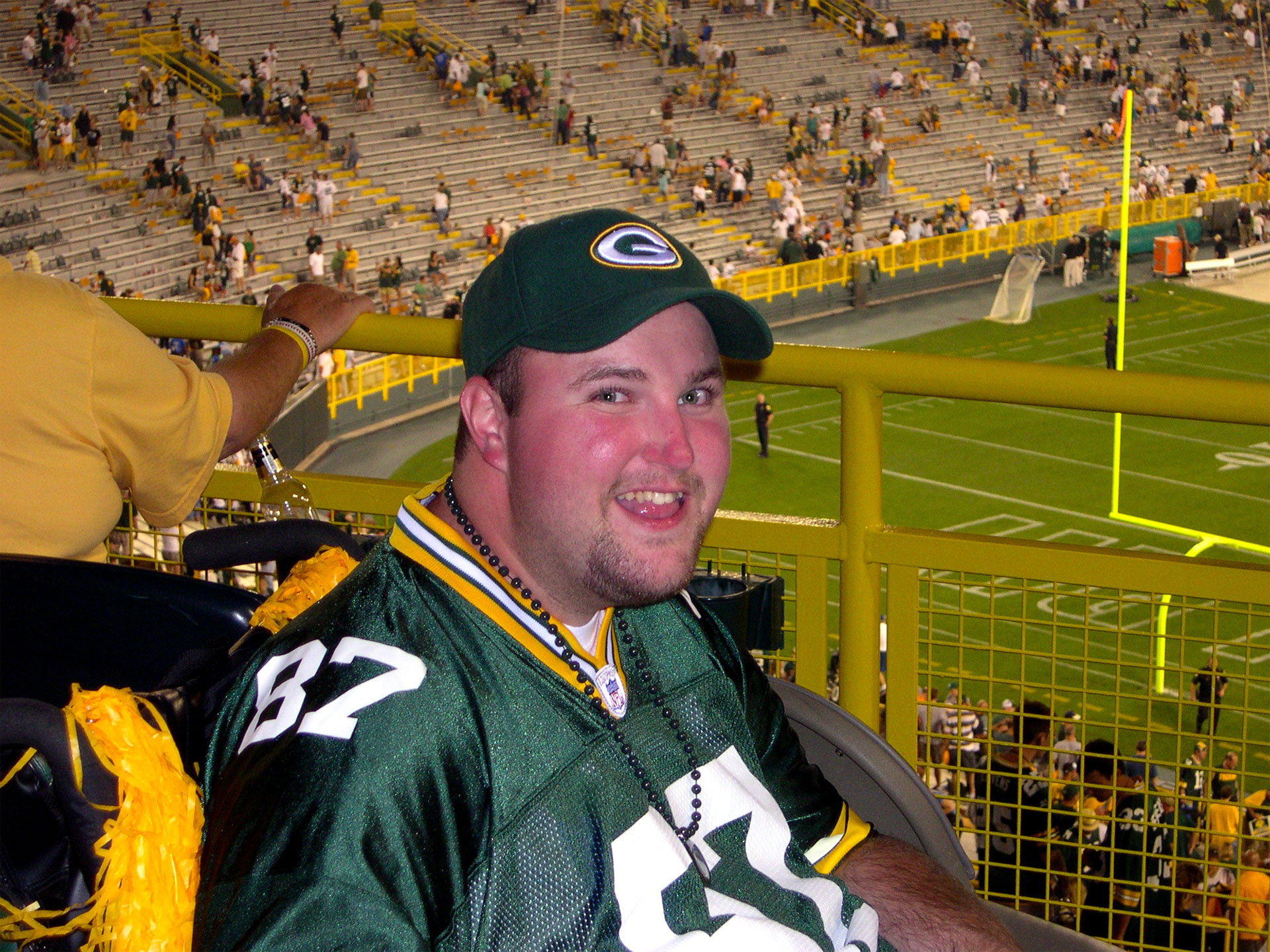 Todd Bell was a 26 year old man who loved life and the Green Bay Packers. At the age of five, Todd was diagnosed with a rare form of muscular dystrophy called Duchenne. By the age of ten, Todd was confined to a wheelchair. Despite the harsh realities of living with such an aggressive disease, Todd always found joy in watching his Packers.
After graduating high school in 2004, Todd did something he never thought was possible for a person in a wheelchair: He attended his first Packers game at Lambeau Field. Todd loved the experience so much it became a Bell family tradition to attend one Packers game each season. Sadly, in 2011, Todd's father, Craig, received a letter from the Green Bay Packers stating that the team would no longer be selling single game handicap tickets and he would need to apply for season tickets. Craig applied for season tickets, but did not win a drawing held by the Packer organization. The Packers notified Craig that Todd was number 18 on the waiting list. Todd was heartbroken.
In October of 2012, Craig received a post card showing Todd as being number one on the waiting list. One month later, Todd passed away due to complications from Duchenne muscular dystrophy. Todd was laid to rest in a Packers jersey and his burial site christened with a headstone emboldened with an image of Lambeau Field.
After Todd's death, the Packers organization notified Craig that he was eligible to buy season tickets. Initially Craig planned to pass on the tickets, but then remembered a conversation he once had with Todd. Todd was never a fan of cold weather and did not care to attend one of the famously frigid games at Lambeau Field. Craig asked Todd what he thought about the idea of donating those tickets to someone else. Todd thought it was a great idea. With that conversation in mind, Craig accepted the tickets and the Wheel of Todd was born.
Todd loved the Green Bay Packers and the game day experience so much that the Bell family wants other people to know and share the joys that Todd experienced. We understand how difficult it can be to cope with a disability and feel that children with disabilities deserve a break in life, even if it's just for one day. The idea of Todd continuing to make a difference in people's lives and seeing kids experience the same joy he had at Packer games is truly a blessing.